Take a Look; It's in a Book
The librarians reveal their love for books and how books have impacted their lives.
Bookshelves filled with hundreds of books line almost every space of the room. Each unique book tells its own story, transporting a person to another world where anything and everything can happen. With countless universes to choose from, librarians Amy Burriss and Elizabeth Hall are just around the corner to help and guide you. They each are willing to share a story of their own. 
Due to the pandemic, Burriss and Hall work in the library deprived of students.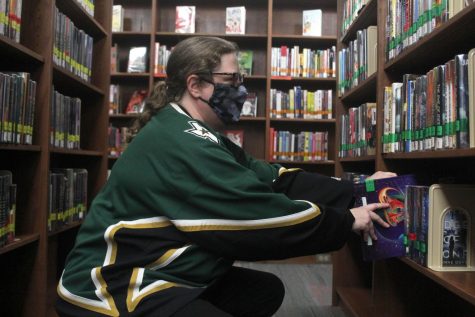 "Teenagers are amazing people," Burriss said. "They're trying to figure out the world, who they are, and what their place is in this world. I miss connecting with the kids and being a part of that." 
After serving as an English teacher for 18 years at Horn, Hall decided to become a librarian.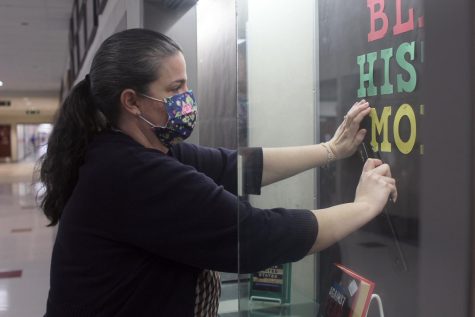 "It's the best of both worlds," Hall said. "I get to work with kids, read information, help teachers, and work with the curriculum. It's just a mashup of all the things I love." 
Buriss has been reading books ever since she was a little girl, which created her strong passion for reading. 
"Books not only offer an escape, but studies have shown that the more books a person reads, the more empathetic they are towards other people," Burriss said. "I firmly believe that our calling on this Earth is to help each other through life, and you can't do that without empathy."
The library offers an online catalog for students and teachers to read book synopsis', and 53% of students take advantage of this feature.  
"It's kind of like reading the back of a book," Hall said. "You can see if it's something you're interested in or want to read."
The librarians want to make the library a comfortable setting for everyone.
"I'm most passionate about creating a safe place for those who might not have one elsewhere," Burriss said. "My classroom is always safe for kids to come and talk to me, or if they just need somewhere to come sit during lunch."
During such a difficult time, Hall believes reading can be a stress reliever.
"It's really important because it provides an escape if you're a worrier," Hall said. "There is nothing better than opening a book and entering into another world. It takes your mind off of whatever's going on in the present moment, which is really helpful."
Sorry, there are no polls available at the moment.