Debunking Election Misinformation
On Feb. 9, Former President Trump's will be facing his second impeachment trial due to inciting the Capitol mob on Dec. 6. Despite Joe Biden being announced the winner of the 2020 election, Trump insists the election was mishandled. The Rosette Newspaper fact checked these claims.
"Trump touted America First and in reality he was always Trump First," Social Studies teacher Mrs. Blakely said. "He split the Republican party, divided our nation, and assisted in the spread of false conspiracies." 
In response to the increase of mail-in voting in the U.S. election due to COVID-19, Former President Trump has said that the election could be "rigged."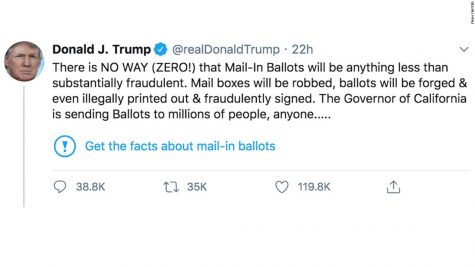 Due to states restricting mail-in ballots, early voting turnout was high leading to a high turnout of 66.3% in over a century (washingtonpost.com). Despite this Former President Trump claimed voter fraud.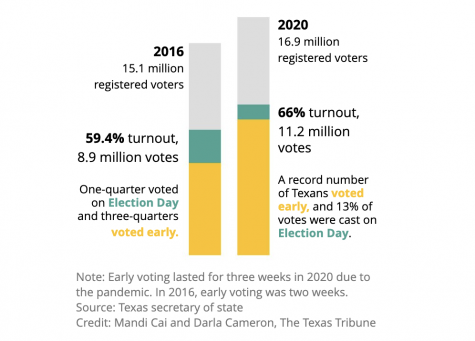 "I worked as a poll-worker in this election and I wholeheartedly believe there was no fraud," junior Melanie Verdi said. "Ballots are very secure and we are always watched. We had to take a legal oath and could be arrested if we tried to commit fraud." 
Both sides, Republican and Democrat, have a poll watcher along with a police officer that supervises the ballots. However, some people who think this is still not safe enough. 
"There's always going to be voter fraud in every election, people get bribed and the results can be manipulated," junior Duy Duong said. 
In Texas Attorney General, Ken Paxton, now closed lawsuit against Wisconsin, Pennsylvania, Michigan and Georgia, he cited voter fraud in the forms of ballot dumping, lack of poll watchers, secret ballot suitcase, voting machine glitch, and unlawful ballots. 
"This election proved that our voices were heard and voting can really change things," senior Sir'Elston Hill said. "This election opened many eyes in the U.S., showing the privilege other people had. 
Former President Trump continues to reject the loss and falsely claims that Former Vice President Mike Pence could reject Biden's win, which violates the constitution rules of a "peaceful transfer of power." He then hosted a rally on January 6, while the congress counted the electoral votes at the Capitol, where he told his supporters to "walk down to the Capitol," where a violent insurrection shortly followed. 
"As president of the U.S., Donald Trump's behavior is unacceptable and he shouldn't be proud of his actions," senior Yatziry Jaramillo said. " Trump being banned off of most social media platforms is really shameful and shows that he is a problem."
Facebook, Google, and Twitter in response banned Former President Trump, limiting his influence on his followers, causing an outrage stating it violated freedom of speech. The First Amendment states that, "Congress shall make no law prohibiting the free exercise thereof; or abridging the freedom of speech," and does not apply to social media. 
"It was a good decision to take away his communication from his supporters," junior Omari Sandifer said. 
The House has responded to Trump's actions by seeking his impeachment for the second time. Former President Trump will be out of the office before the impeachment procedures begin; however, House Speaker Nancy Pelosi and others seek to hold him accountable. 
"I have hope that the next four years will be very different," Spanish teacher Mrs. Hernandez said.