The Show Must Go On!
The new theatre teachers explain what theatre life looks like during COVID.
Hundreds of seats lined up row after row turned toward an elevated stage with the spotlight shining to theatre teacher Sheresa Tuggle directing her students around the stage. Behind the scenes is technical theatre teacher Hope Englestad and her technical theatre students, making sure everything is functioning for the performance. 
Theater teacher Ms. Tuggle and technical theatre teacher Ms. Englestad are teaching their first year here during a pandemic.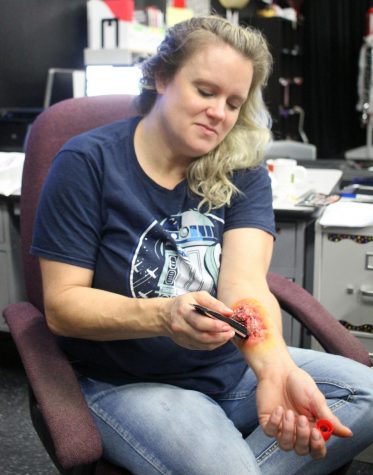 "It's so much harder to know kids and their names and connect with people," Ms. Tuggle said. "We got this barrier on our face and this barrier of six feet." 
Ms. Englestad is working out ways to teach technical theater in an effective way to her VLA students.
"It's quite a challenge because theater is such a hands on and interactive subject," Ms. Englestad said. "I've really tried to think outside of the box to give my at home students the same opportunities." 
After sitting in their class since school reopened, senior Ethan Pickens observes how they interact with him and his classmates.
"They are really involved and motivated to make kids want to do theater and not only do it but stay in it," Pickens said.
The theatre teachers have come up with creative ways to work with the pandemic.
"I have thought about possibly incorporating masks into our costuming," Ms. Englestad said. "Make the mask a part of the costume like [for example] the Chester cat smile could have a big old smile mask." 
Even though there may not be a full house on performance day, they are still hopeful about incorporating some time for an audience, whether it is in person or virtual.
"We might have to livestream or record it," Ms. Tuggle said. "Everybody that comes in as an audience has to fill out a form. They can do a pre screening form. We'll have to take temperature checks and all that kind of fun stuff."
Junior Kimberly Meza, looks forward to senior directs and is already thinking about the roles to participate in.
"I would either be in tech or on the stage acting," Meza said. "Those are the two main things."
Even during this stressful time, they have found positives while teaching here.
 "The faculty is a lot of fun to work with," Ms. Tuggle said. "The kids are really cool, so it's really neat."
Ms. Englestad enjoys the materials, like brand new lights and soundboard, the school provides and looks forward to what she can do with Tech theater. 
"I absolutely love [working here]," Ms. Englestad said. "This school has provided me with a lot of resources that I wouldn't usually have access to, and my tech students have a lot of opportunities."